Who is Save Our Schools NC?
Save Our Schools NC  started as a simple Facebook group dedicated to ending the class size mandate and support a bill known at the time as HB 13. We've grown and expanded, but our focus is still on the unfunded class size mandate.  We are PTA members, public school advocates, PTO members, teachers, and community members.  We are trying to reach out to the entire state to get rid of the unfunded mandate.  We are grassroots standing up for public schools in North Carolina.
Save Our Schools NC began as an effort to support HB 13.  This unanimous house bill would have created friendly ratios and given schools flexibility for the unfunded class size mandate dictated in a past budget bill.  It was stuck in a senate committee and we pushed to move it.
We held postcard parties, and encouraged calls to all NC Senators.  We showed up to help lobby with our good friends Public Schools First NC and the North Carolina Association of Educators.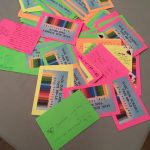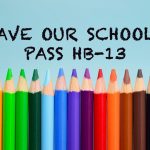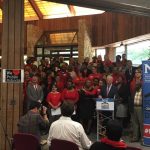 In April, we organized and held a rally at Halifax Mall to bring awareness to the bill and the problem of the unfunded class size mandate.  We had hope that HB 13 would pass and art, music, and P.E. teachers would have secure positions.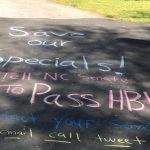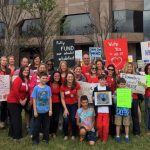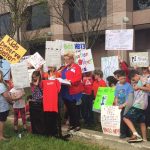 Unfortunately, the Senate's version of the original HB 13 was not what we hoped.  It delayed the full brunt of the class size mandate numbers, and did not keep any wording to secure the positions of specialist teachers.  It also began to roll out the mandate in a small dose for the school year 2017-2018.  Many of us are dealing with the consequence of that roll out already with larger 4th and 5th grade classes.
Save Our Schools NC did not give up.  We dusted ourselves off and went right back to lobbying our legislature.  Renee Sekel devised a brilliant pledge to urge legislators to promise to fund our specialist teachers.
At all special sessions of the North Carolina General Assembly this year, Save Our Schools NC was there.  We held mini rallies outside.  We spoke to our senators and made numerous trips to Jones Street.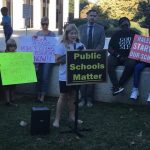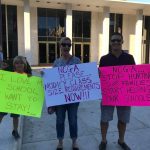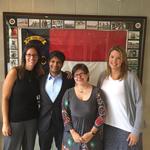 Our recent actions include writing Christmas cards to the NCGA.  We did a social media campaign that included wearing red on Wednesday, and now most important we are rallying again to stop the unfunded class size mandate!  Don't worry we sent an invite to all the members of the General Assembly.