May 16th: March for Students and Rally for Respect.  A Day of Advocacy.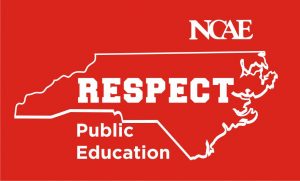 Educators!  We've got your backs!
On May 16th, Educators will march from the NCAE Building downtown to the Legislative Building at 10am!  Parents let's march with them and show our support.  
Then educators, and interested parents may go into the Legislative Building and meet with Senators and Representatives to advocate for our public schools.
The rally is at 3:30pm  at Bicentennial Mall (Across the street from the Legislative Building in between all the museums)
For those of us with kids we can certainly advocate, but if you need to take a break between the march and the rally that's ok.  There are wonderful museums right there to explore!  We hope to have information soon on a picnic lunch and a small program for the kids in the afternoon.
Also coming soon t-shirts!
Regardless its Wednesday so wear Red for Ed!
More coming to a website or social media outlet near you.