Food Drive for May 1st
Come by these locations with your Back Pack Buddies Donations on April 27th! Items needed listed below.
Food Drive Collection sites for April 27th Drop Off 10am – 6pm
Apex Food Lion: 620 Laura Duncan Rd
Durham Food Lion: 4621 Hillsborough Rd.
Cary Food Lion: 8745 Holly Springs Rd.
Cary Harris Teeter 1151 Tryon Rd.
Raleigh Harris Teeter: 500 Oberin Rd.
Raleigh Harris Teeter: 5563 Western Blvd.
Raleigh Food Lion: 3415 Avent Ferry
Raleigh Food Lion: 2420 Wycliff Dr.
Raleigh Food Lion: 5633 Creedmoor Rd.
Raleigh Food Lion 2861 Jones Franklin Rd.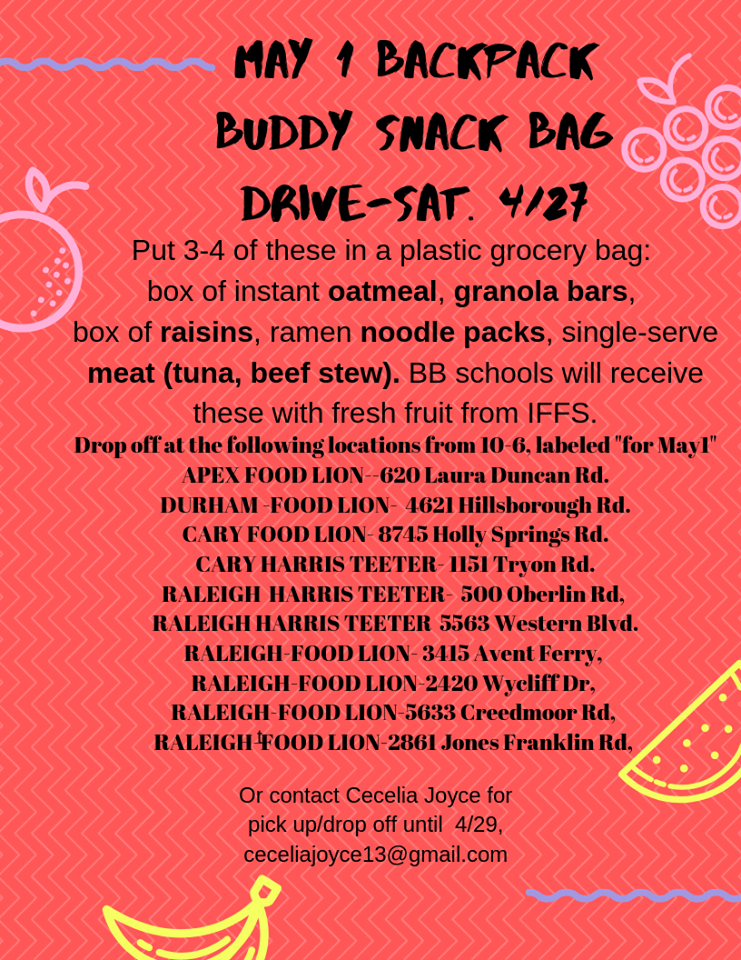 Put 3-4 Items in a plastic grocery bag:
Single Serve Meat (tuna, beef stew)
Don't worry Fresh Fruit will be provided
Want to Volunteer for the Food Drive
Click to Donate your Organization's Time and Partner to Help Feed Wake County Kids
Contact: Cecelia Joyce: ceceliajoyce13 at gmail.com
List of Wake County Food Pantries.
Other on site food pantries sponsored by local PTAs (must attend the school to access the pantry: 
Brassfield Elementary
Conn Elementary
Highcroft Elementary
Horton's Creek Elementary
Joyner Elementary
Kingswood Elementary
Lacy Elementary
Leesville Rd. High School
Millbrook High School
Penny Road Elementary
Reedy Creek Elem/Middle Located at the Middle School
Weatherstone Elementary
Child Care/Camps
Transportation to the March
Volunteer to Help with May 1st